Abe's Trash Service can provide stationary and self-contained commercial trash compactors.
Commercial Trash Compactors in Omaha
Investing in a commercial trash compactor can save your business time and money when it comes to handling and transporting waste. They offer the same convenience of a roll-off dumpster, yet are better suited for businesses who need to remove large amounts of standard solid waste. If you are tired of watching your garbage bins fill up so quickly that you have to stack additional trash next to them, then you may want to consider installing a garbage compactor.
Large amounts of food waste, recyclable materials, hard plastics, and other types of waste materials can be reduced in size using the tremendous pressure of a garbage compactor. Compactors give you additional space for waste products and could be the perfect choice for your waste elimination needs. Because trash comes in various sizes, a regular trash container or roll-off dumpster can appear full even though it's not. Using a trash compactor will mean fewer trips to the landfill and easy disposal of your unwanted recyclable trash or waste material.
Abe's Trash Service can provide stationary and self-contained commercial trash compactors, helping your business save space, dispose of waste efficiently, and make for easier recycling. Interested in learning more about our trash compactor service? Keep reading or call us today!
Our Trash Compactor Options:
At Abe's Trash Service in Omaha, we offer both stationary and self-contained trash compactors, making it easier for you to choose the best solution for your business.
Self-contained trash compactor
Self-contained trash compactors are designed in such a way that the compactor is permanently encompassed by the container, and the entire module is collected and carried to waste disposal sites. Their design makes them capable of handling wet waste removal, as well as allows them to discourage scavengers such as squirrels, raccoons, rodents, and insects. Furthermore, self-contained commercial trash compactors reduce the danger of fires and can control unpleasant odors from food products, soft waste, and more.
Stationary trash compactors
Stationary trash compactors are ideally suited for handling dry waste such as cardboard and paper. As the name implies, stationary compactors are fastened to the ground and pack refuse directly into a separate container that can be swapped out on trash pickup day.
Commercial Trash Compactor Uses
At Abe's Trash Service, Inc., our commercial trash compactors are designed to compact and compress a lot of waste efficiently, including waste with substantial liquid or moisture. Both self-contained and stationary trash compactors have numerous commercial uses and are ideal for:
Supermarkets and grocery stores
Restaurants that need to eliminate food waste
Department stores
Hotels, motels, and resorts
Shopping malls, shopping centers, and food courts
Hospitals
Colleges and institutions
Stadiums and convention centers
Warehouses and product manufacturers
Food processing centers
A common thread among these types of commercial applications is the need to dispose of large amounts of trash and waste in a quick, efficient manner. Commercial trash compactors are an ideal solution to this problem. Garbage compactors are excellent at breaking down and compressing trash into its smallest form. This is especially important for those businesses that find themselves constantly stacking up trash next to their garbage bins that are already full. If this sounds familiar, you should contact us today to learn about our options for garbage compactor rental. Abe's Trash Service is a trash compactor service that can help you find the right compactor solution for your business.
Trash Compactor Benefits
Better technology allows us to eliminate gallons of waste materials easily, saving time, space, and money. Abe's Trash Service in Nebraska prides itself on quality customer assistance and service. We want our commercial waste compactors to help your business run more smoothly and efficiently. We believe that easier waste management can help your business.
Some benefits of commercial installations of trash compactors:
Most efficient use of space because compactors minimize the volume of the waste to fit more
Fewer pickups required
Reduced collection and labor costs
Increased waste security
Improve waste management and efficiency at your business' facilities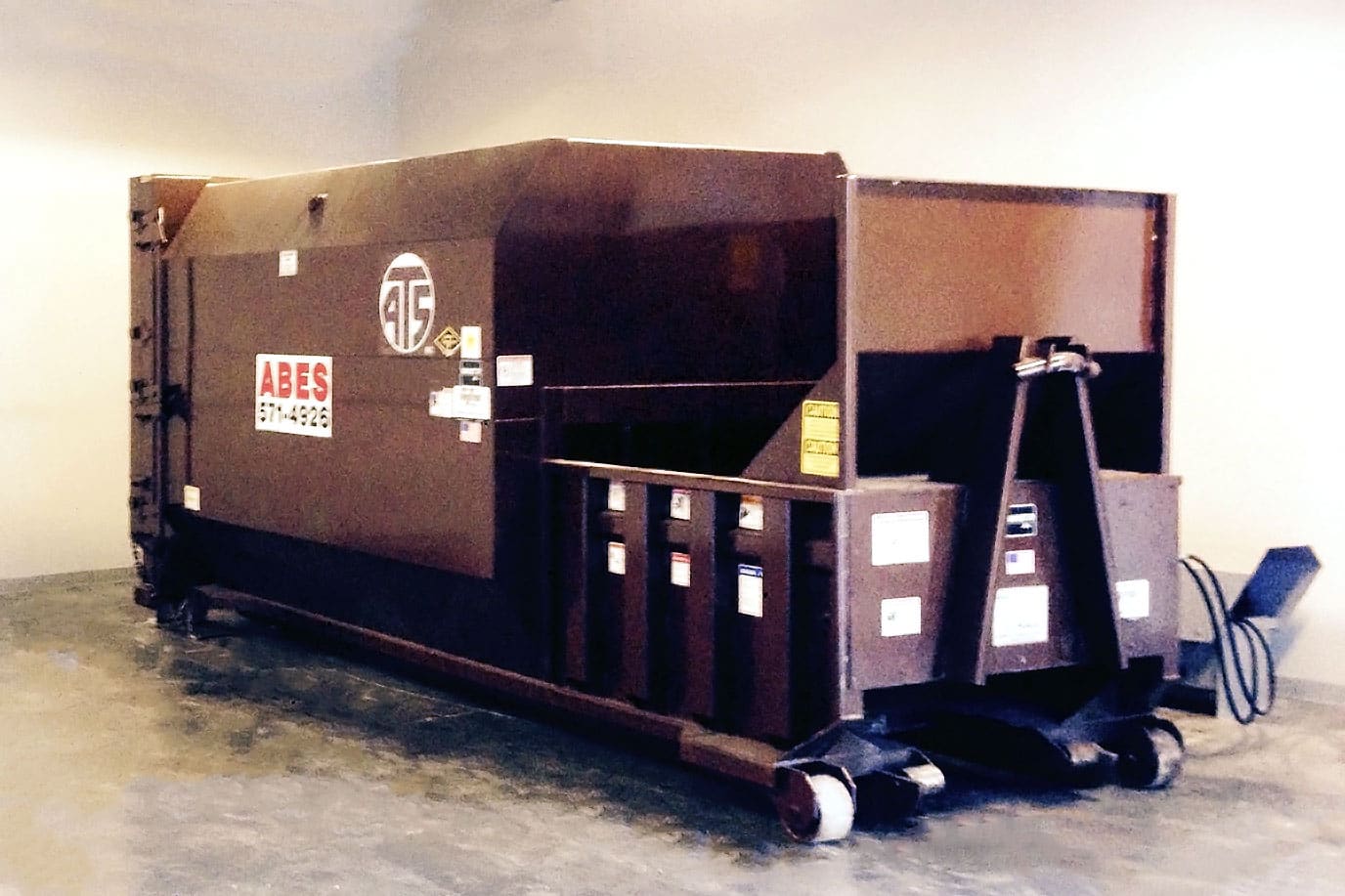 Let Us Provide You With Quality Trash Compactors
Commercial garbage compactors can be extremely useful for certain types of businesses, especially those that need to eliminate a significant amount of waste. Reducing the volume of waste material allows you to fit more in a bin, cutting down on trash pickup service costs, saving time, and improving operations at your business.
Are you in need of a trash compactor? If the answer is yes, Abe's Trash Service, Inc. has just what you're looking for! We have trash compactors that efficiently compact and compress tons of waste. If you would like additional information about our stationary and self-contained commercial trash compactor options or information about our pricing, please contact our office in Omaha at 402-468-5434.