Abe's Trash Service is a local family owned company in Omaha, Nebraska.
As one of Omaha's most established trash companies, we have been in business for more than 60 years. Our goal is to provide quality dependable trash service for all of our customers.
It was 1955. The weather was hot and dry. Abe Christensen had corn in his field, and the corn was all dried up. With a wife and three children to support, he knew he had to do something, anything, to raise money.
Living in Omaha's 102nd & Maple area (which back then was rural), Abe took one of his cattle trucks, filled the slots in the sides, and drove to 40th & Cuming. Going door to door, he asked the residents of the community if he could empty their trash. He wasn't even sure what to charge, saying "pay me what you want to."
It's hard to believe today, but back then, 95% of the population burned their trash; Omaha trash companies simply weren't a thing. Sometimes, particularly on windless nights or if there was fog, smoke hung over the city "so thick you could almost cut it," Abe said. So Abe picked up the trash and hauled it to his farm, where he would burn it in a below-ground silo. Soon he had set up a fee schedule – $1 a month for once-a-month service, $2 a month for once-a-week service. He went to factories and got 50-gallon drums for his customers. He carried water to wet down the paper trash to keep it from blowing away en route to the farm. His wife Arlene helped unload the truck when he got home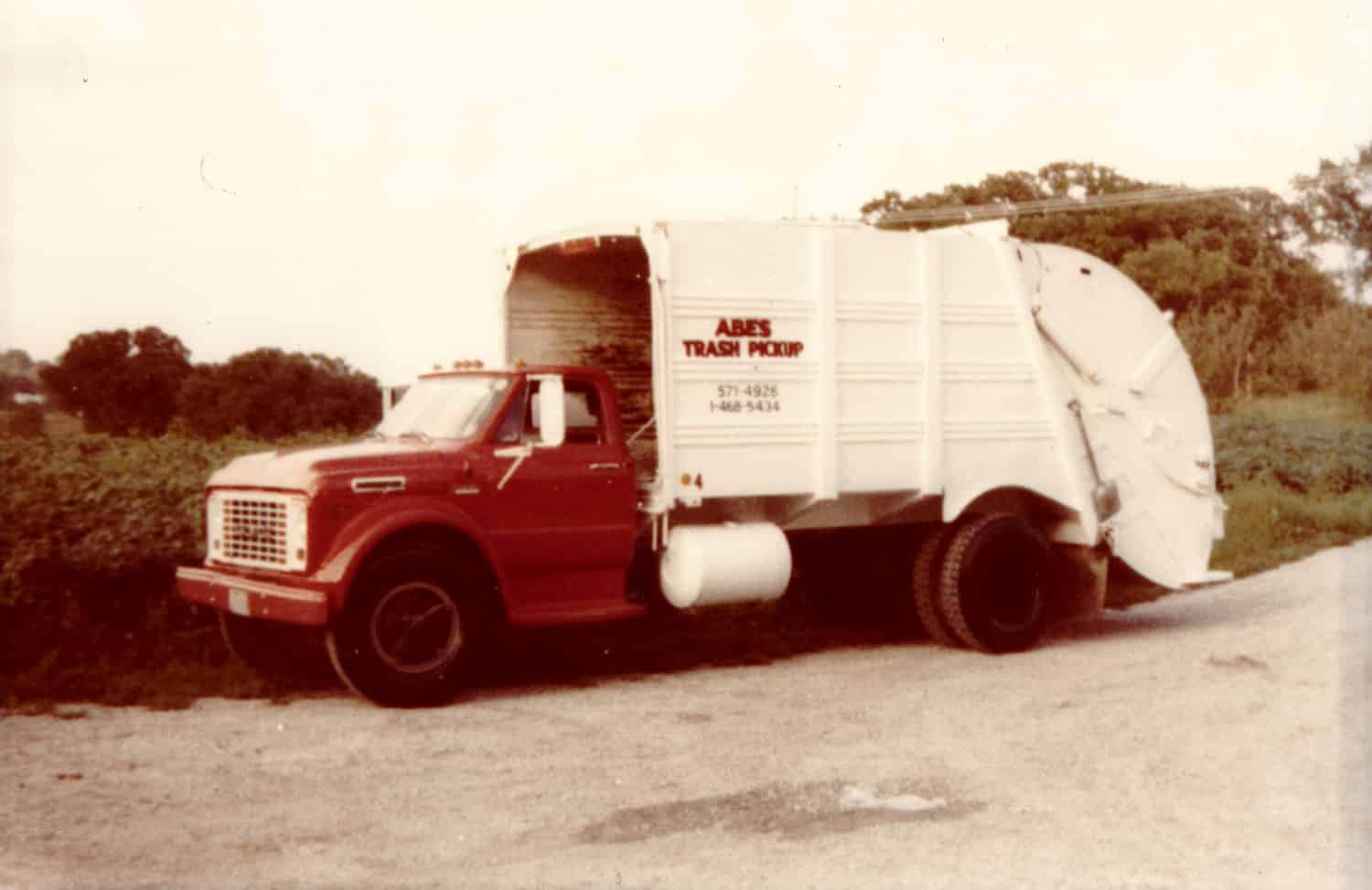 Soon he had set up a fee schedule – $1 a month for once-a-month service, $2 a month for once-a-week service. And so, a commercial trash service in Omaha was born.
It didn't take long for Abe's customers to realize that the air in their neighborhoods were improving. Soon, real estate agents asked Abe to have some cards printed so they could refer new homeowners to his trash company.
Abe bought his first packer (garbage truck) in 1958 and his second in 1959. The second one was brand new and came from New York. Trash companies and garbage packer trucks were still a novelty in Omaha at the time. But now, Abe was taking his commercial trash service to Omaha, Blair, Fort Calhoun, Bennington, Elkhorn, Valley, Waterloo, and Kennard. Then Doc Cady, Arlington's mayor and a veterinarian, called him to pick up Arlington's trash.
He hired neighbors as his employees. "Whenever there was a job opening, there was somebody there waiting to fill it." He believed that employees are what make or break trash companies. Abe built a reputation for great service, never missing a day on the route, including holidays. He was too busy to afford to get behind. Some said they could set their watches according to what time Abe's Trash Service would arrive.
In 1959, Abe moved his family to a farm along Dutch Hall Road. Abe's Trash Service is still located in this area today. Abe retired from his trash company in 1967, selling each driver his route. In 1970, John, his son, purchased one route and built the current Abe's Trash Service from this single route.
John and his wife, Peggy, currently own the waste management company. All four of their children – Shawn, Monte, Andy, and Josh – are involved in the daily operations of the company. Abe's current location is 8123 Christensen Lane in Omaha, Nebraska. We have grown over the years and now employ about 60 employees and operate more than 40 trucks to maintain the quality we've become known for as Omaha's premier commercial trash service.
Today, Abe's is a trash company that specializes in junk and waste removal, recycling service, and both commercial and residential dumpster rental. We still serve the Omaha metro area, with the same quality, dependable service since 1955.
The Best of Omaha's Residential Trash Companies
Not all trash removal companies offer the level of service that Abe's provides. We offer a variety of service options, such as recycling, bulk pickup/junk haul away, and dumpster rentals for those home renovation projects. Garbage companies should make your life cleaner and easier, and that's why customer satisfaction is one of our top priorities.
Abe's provides weekly trash and recycling removal services to our customers
Trash and recycling carts are available
Businesses accumulate a great deal of trash while running their day-to-day operations, and they need reliable commercial trash service to keep waste under control. Our collection service with disposal may be just what you need to manage your company's waste. You can schedule exactly the amount of pickups your company needs to eliminate waste products.
Abe's trash company offers dumpster service with front load and rear load style containers from 2 to 8 yards, emptied 1 to 6 times a week
Abe's also offers trash compactors and recycling services to our commercial customers
There is almost no job messier than construction. That's why Abe's offers our construction rolloff services. We can provide large containers for you to place construction debris in at your convenience, and then when you're ready, you can call us to come pick it up. We try to think of everything when it comes to waste management to make the lives (and work lives) of our customers easier. Not all garbage companies offer convenient, reliable, flexible construction debris removal services.
Abe's trash provides 12, 20, 30, and 40-yard construction roll-off containers for easy waste collection service
"Green build" services are offered
Garbage Service FAQs
Have questions about our waste management company in Omaha or about our trash services? Give us a call or read through some of our frequently asked questions below.
What items will you not take?
We Don't Accept the Following
Ammunition

Fireworks

Flammable Materials

Paints

Oils

Tires

Batteries

Hazardous Waste

Hot Ashes

Brush and Branches larger than 4 feet
What recyclables are permitted?
Acceptable Recyclables
Aluminum and Tin: Rinse containers
Aerosol Cans and Paint Cans: Must be empty
Paper: newspaper, magazines, brown grocery bags, telephone books, catalogs, office paper, envelopes, cereal boxes, beverage boxes, frozen food packages, and juice boxes
Cardboard: Clean corrugated cardboard boxes or shipping boxes under the bin. Break down or cut the boxes so they are flat
Plastic: Rinse out containers. We accept plastic container numbers 1 through 7. To recognize look at the bottom of the container for the recycling symbol 1 through 7.
Non-acceptable Recyclables
Rubberbands

Plastic Bags

Soiled Paper

Tissue Paper

Paper Towels

Wax Coated Paper
Do you continue regular pickup if it's a national holiday?
The following holidays will delay service by 1 day for the remainder of the week: New Years Day, Memorial Day, Independence Day, Labor Day, Thanksgiving Day, Christmas Day.