Roll Off Dumpster Rental in Omaha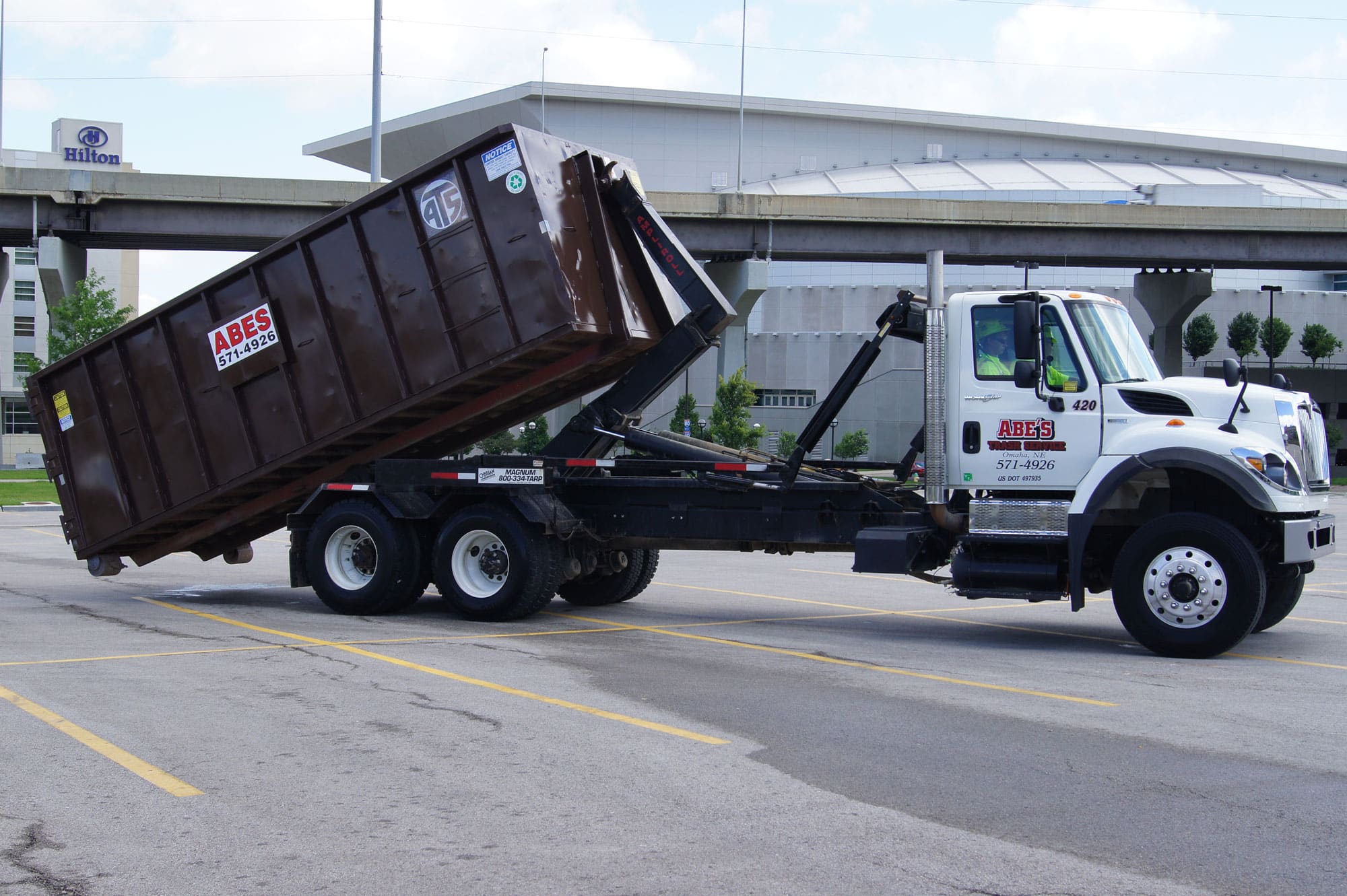 When it comes to reliable and hassle-free roll-off dumpster rental in Omaha, there is no better company to work with than Abe's Trash Service. We offer a variety of roll-off dumpster sizes that cater to any residential or commercial project. Whether it's a small kitchen renovation or a large office overhaul, our dumpster services are essential for managing your waste and debris.
Our team is dedicated to providing excellent customer service, ensuring that each roll-off dumpster is delivered and picked up on time and placed with care. If you need a dumpster service that you can trust, don't hesitate to contact Abe's Trash Service and learn more about our roll-off dumpster rental options today!

Our Roll Off Dumpster Size Options
Managing waste can be quite a task, and finding the right size roll off dumpster can make all the difference. At Abe's Trash Service, we understand that every project is unique, which is why we offer a range of roll off dumpster sizes to match your requirements. Whether it's a small yard cleanup or a large-scale demolition project, we've got you covered with the perfect roll off dumpster rental.
Our dumpster service provides four different size options, ensuring you don't end up paying for more space than you need. Check out our size chart to find the ideal roll off dumpster for your waste removal needs today!
| | | | |
| --- | --- | --- | --- |
| | Length | Width | Height |
| 12 yd Dumpster | 16 ft | 7 ft | 4 ft |
| 20 yd Dumpster | 20 ft | 8 ft | 4 ft |
| 30 yd Dumpster | 22 ft | 8 ft | 6 ft |
| 40 yd Dumpster | 22 ft | 8 ft | 8 ft |
Have Questions about Our Dumpster Service?
If you have any special circumstances, such as being in need of hazardous waste disposal or not being sure what permits are required, call us today to speak with an account manager. We want to be conscious of your time and budget—that means helping you avoid fines and additional costs. Don't hesitate to call with questions!
Roll Off Dumpster Prices
There are several factors that will play into the cost of roll off dumpster rentals, such as location, dumpster size, rental period, and the type and weight of waste to be removed. Call Abe's Trash Service today to get the most accurate estimate for roll off dumpster rental prices.
Hazardous Waste Management
Abe's roll off dumpster rental service is not able to provide trash removal for the following hazardous materials:

Chemical waste
Paints and solvents
Automotive fluids
Pesticides
Batteries
Liquid Waste
Additional restrictions for heavy items also apply. If you're not sure if your waste falls under one of these restricted categories, give us a call today!
Roll Off Dumpster Policies and Permissions
Your city, community, or neighborhood may have specific policies regarding roll off dumpsters. If you aren't sure about your area's roll off dumpster policies, such as policies for a community project that is not on private property, make sure to do your research and obtain necessary permits or permissions before you rent.
Why Consider Roll Off Dumpster Rental
Regularly scheduled trash pickup is not going to meet the needs of large projects, whether it be residential landscaping projects or large construction/demolition projects. Renting a roll off dumpster allows you to get to work without worrying about what to do with debris. Dumpster rentals from Abe's come in different sizes and can be placed conveniently in a location of your choosing, such as on a driveway or in a place near a construction site.
Roll off dumpsters are great for:
Large yard waste cleanup projects

Spring cleaning projects

All types of remodeling projects big and small

Enhancing curb appeal through yard updates

Garage clean-outs

To load up junk before or after a move

Construction debris

Removal and disposal of carpet and other flooring
Take Care Of All Of Your Dumpster Rental Needs With Abe's Trash Service
Managing waste during large projects can be challenging and time-consuming. That's where Abe's Trash Service comes in. Our efficient roll-off dumpster rental service ensures that you can manage all of your waste disposal needs in Omaha with just one phone call.

With Abe's, you don't have to worry about the hassle of hauling or disposing of waste. Our experienced team will take care of everything for you. Contact us today to get a free quote and trust in our years of expertise in providing reliable dumpster services.