Roll-Off Dumpster Rental in Omaha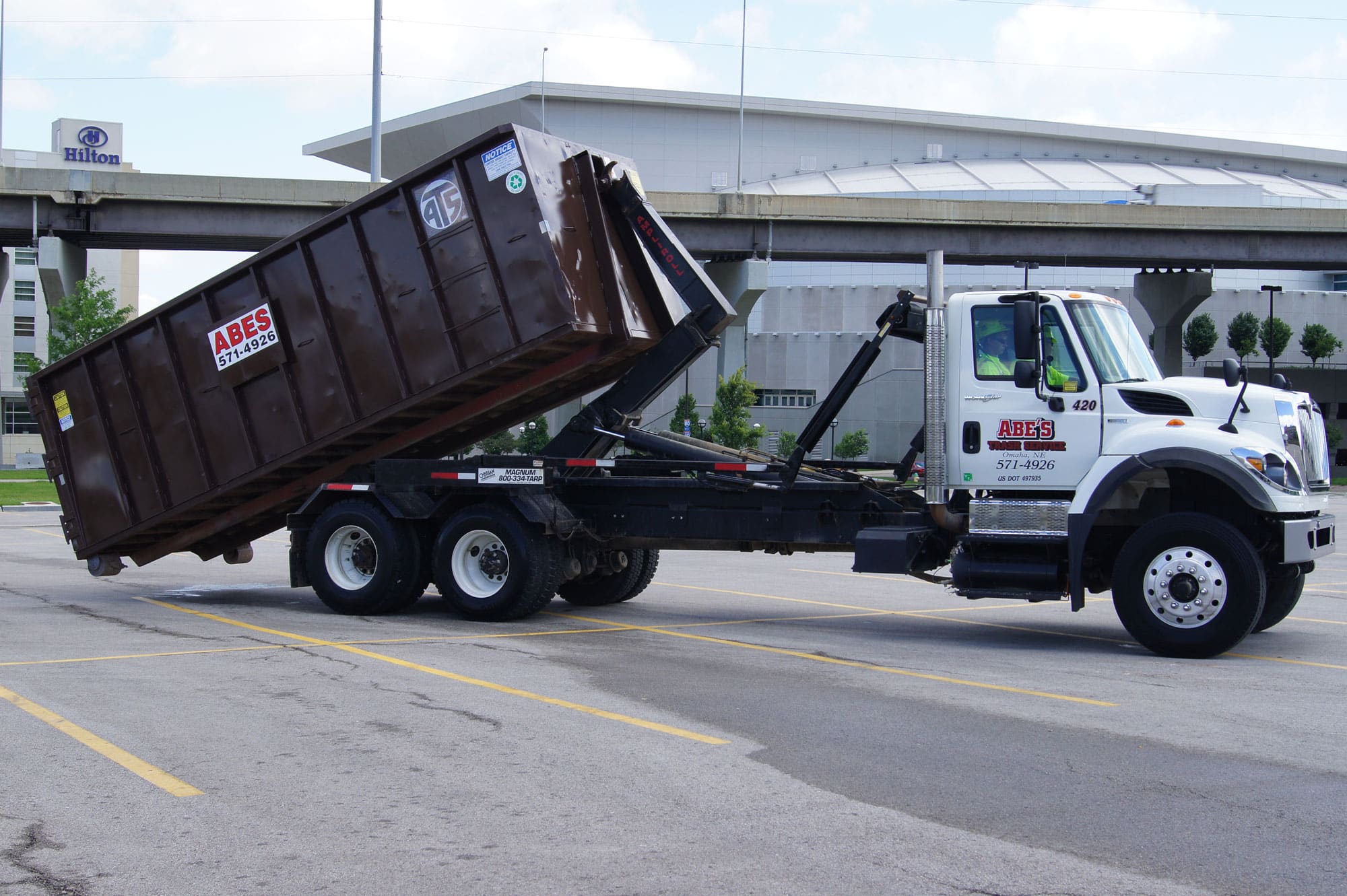 Omaha is always growing and changing, with new construction and renovation projects happening every day. We know that an important step in your process is waste management that is efficient and in budget.
With a variety of roll-off dumpster sizes available, Abe's Trash Removal offers the waste management resources you need whether you're managing a large commercial construction site or small home renovation project. Our rental services operate on timely delivery and pick up, and our friendly team works hard to ensure careful placement of each roll-off dumpster.
Interested in renting a roll-off dumpster from Abe's Trash Removal? Call us today to get started!

Our Roll-Off Dumpster Size Options
Did you know we have different roll-off dumpster sizes for different projects? We understand that you don't need a huge roll-off dumpster taking up space for a simple yard cleanup, but you definitely don't want a small one if you're demolishing a building. We want to ensure that you have what you need for your waste management, and that's why we offer 4 different sizes! Take a look at the size chart below to find the right fit for your trash removal needs.
| | | | |
| --- | --- | --- | --- |
| | Length | Width | Height |
| 12 yd | 16 ft | 7 ft | 4 ft |
| 20 yd | 20 ft | 8 ft | 4 ft |
| 30 yd | 22 ft | 8 ft | 6 ft |
| 40 yd | 22 ft | 8 ft | 8 ft |
Have Questions about Our Dumpster Service?
If you have any special circumstances, such as being in need of hazardous waste disposal or not being sure what permits are required, call us today to speak with an account manager. We want to be conscious of your time and budget—that means helping you avoid fines and additional costs. Don't hesitate to call with questions!
Roll-Off Dumpster Prices
There are several factors that will play into the cost of your roll-off dumpster rental, such as location, dumpster size, rental period, and the type and weight of waste we'll be removing. To get the most accurate roll-off dumpster rental price, call us today to receive an estimate!
Hazardous Waste Management
Abe's roll-off dumpster rental service is not able to provide trash removal or junk removal for projects that involve chemical waste, paints and solvents, automotive fluids, pesticides, and electronics and batteries. Additional restrictions for heavy items also apply.
Roll-Off Dumpster Policies and Permissions
Your city, community, or neighborhood may have specific policies regarding roll-off dumpsters. If you aren't sure about your area's roll-off dumpster policies, such as policies for a community project that is not on private property, make sure to do your research and obtain necessary permits or permissions before you rent.
Looking for roll-off dumpster rental service in Omaha? Contact us today for an estimate.