Commercial Trash Services in Omaha, NE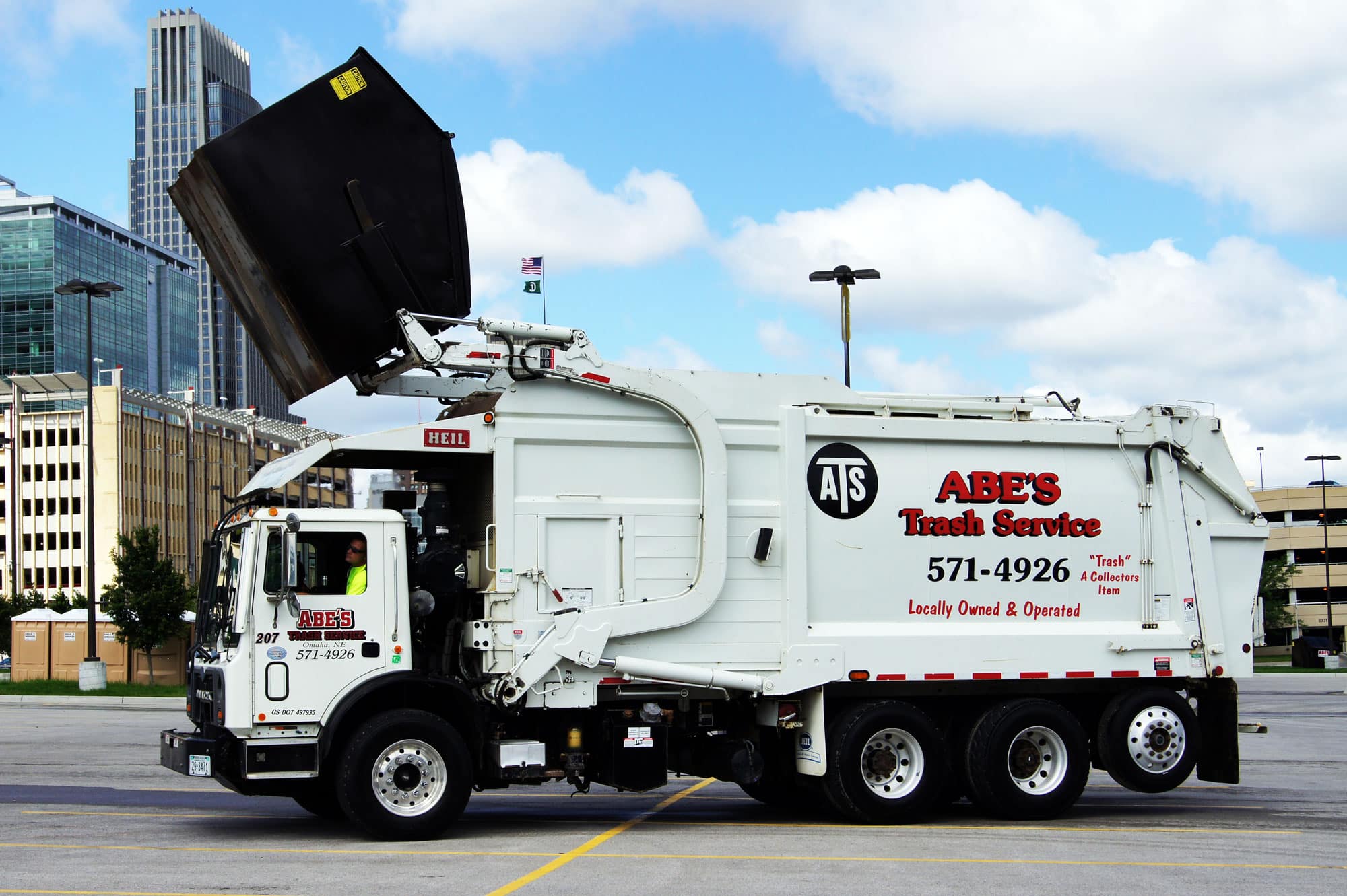 For over 60 years, Abe's Commercial Trash Service has been providing quality, dependable trash removal and dumpster rental services to Omaha area businesses, both large and small. We provide flexible solutions made for everyone, including construction trash removal, commercial recycling, and more!
Our Commercial Trash and Garbage Collection Services
Commercial Dumpster Rental
We have a variety of dumpster sizes and commercial waste management containers available for rent and sized to fit every situation. We provide regularly scheduled services as well as special, on-demand pick-ups. Our trained and courteous drivers will get the job done right.
If your business is working on a construction or demolition project, we can provide dumpster rental to haul away debris. Contact us to schedule pickups for your commercial trash. We can handle even large amounts of waste.
Rear And Front Loading Dumpsters
Abe's Trash Service has both rear load and front load dumpsters to fit the size and accessibility of your space. Front loading dumpsters tend to be more compact in size for tight spaces. Rear loading dumpsters require the driver to get out of the truck, decreasing the likelihood that trash will be missed on the ground. Our dumpsters are ideal for commercial or construction trash removal. Not sure which one you need? Call us and let one of our professional account managers help take the guesswork out of choosing.
Trash Compactor Services
At Abe's Trash, we also offer services that can help you reduce your business's waste costs. With commercial trash compactors, you'll be able to reduce the size of your waste materials. By reducing the volume of your company's waste materials, you'll reduce the number of hauls it takes to remove the trash from your property. In doing so, you'll lower the cost of collection. Along with reducing the size of both soft waste and hard metals and plastics, trash compactors can also create a more odor-free, sanitary environment. If you're looking to rent a commercial trash compactor, we can help!e's Trash handle the removal of your compostable materials. Whether your 
Commercial Trash Service Packages for Every Budget and Schedule
We have flexible schedules available and service packages for every business budget and need. We are a family-owned business that has grown with the Omaha area for over 60 years. We can help you choose the optimal equipment, service schedule, and budget to meet the needs of your business.
Let our family-owned business serve yours! Contact us today.
Rear Load
| | | | |
| --- | --- | --- | --- |
| Rear Load | Length | Width | Height |
| 2 yd | 43 in | 68 in | 49 in |
| 3 yd | 80 in | 68 in | 45 in |
| 4 yd | 80 in | 68 in | 50 in |
| 6 yd | 122 in | 68 in | 50 in |
| 8 yd | 144 in | 68 in | 50 in |
Front Load
| | | | |
| --- | --- | --- | --- |
| Front Load | Length | Width | Height |
| 2 yd | 41 in | 80 in | 46 in |
| 3 yd | 49 in | 80 in | 54 in |
| 4 yd | 57 in | 80 in | 64 in |
| 6 yd | 78 in | 80 in | 64 in |
| 8 yd | 90 in | 80 in | 75 in |