The Importance of Reliable Trash Service in Omaha
Waste management is important for your community to be healthy and sanitary.  Many diseases can be prevented through proper disposal of trash.
By providing reliable garbage service, trash removal, junk pickup, and yard waste   removal (such as leaves and grass), you can keep your neighborhood clean and safe for everyone.
Removal of debris and junk also makes your Nebraska neighborhood more appealing, increasing property values and improving quality of life.
Abe's Trash Service makes waste management so much easier for everyone. We provide a wide range of garbage collection services to choose from.
 Types of Waste Management Services We Provide
Everyone has different waste management needs. A new homeowner may need residential trash service, recycling service, and the occasional bulk garbage pickup.
But maybe someone who is renovating their home is in need of a roll off dumpster.
A business owner might need junk hauling service or a dumpster rental.
Whether you need to get rid of hazardous waste or an old appliance, we can provide the service you need.
Here is some more information about some of the trash pickup solutions Abe's Trash Service offers:
Looking for reliable, convenient trash services in Omaha? Abe's Trash Service offers curbside trash removal using 90 gallon carts. In addition to trash removal services, we also offer our residential clients yard waste and junk removal. Simply schedule your services and place your can curbside! Doing some renovations? We also offer our residential clients dumpster rental.
For more than 60 years, Abe's Trash Service has provided reliable and affordable trash removal and dumpster rental services to Omaha businesses, both large and small. In addition to routine commercial trash removal, we provide rear and front loading dumpster rentals, junk removal, and recycling services.
Planning for a renovation or construction project? Whether for commercial or residential purposes, Abe's Trash Service provides roll-off dumpster rental services. Our dumpsters come in 4 sizes ranging from 12 to 40 yards. Our roll-off dumpster rentals operate on timely delivery and pickup, and our team works hard to ensure careful placement of each dumpster.
At Abe's Trash Service, we're committed to making it easier to reduce your impact on the environment. We offer single-stream commercial and residential curbside recycling all over the Omaha area. Spend less time sorting materials, save gas driving to the nearest recycling facility, and divert excess waste from landfills with us!
Hosting an outdoor event? Planning for a large construction project? Abe's Trash Service offers ADA compliant portable restrooms and hand washing stations for special events and job sites. Whether you need one or a fleet, we're committed to providing you with quality waste management services.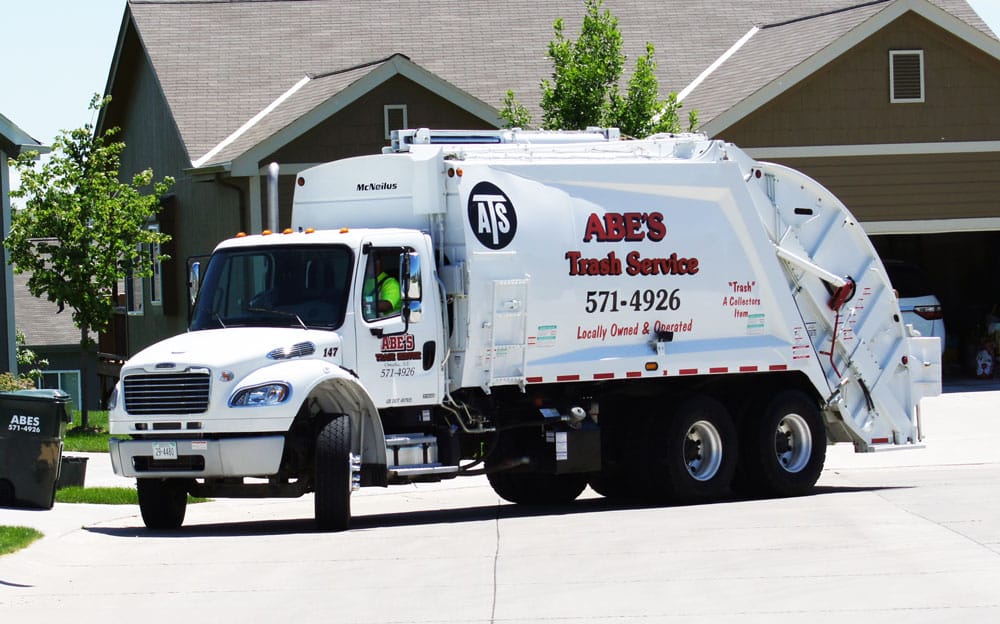 About Abe's Trash Service
Abe's Trash Service is locally owned and operated. Abe's started as a one-man one truck company 60 years ago and has been serving the Omaha community with residential and commercial junk removal, trash pickup, and recycling services. Whether you're a homeowner, business owner, or construction or demolition site manager, our goal is to provide quality, dependable service for all of our customers.
Set Up Reliable Trash Pickup, Junk Removal, Green Waste Disposal, or Recycling Pickup
Abe's Trash Service is ready to get you set up with whatever garbage collection service you need. Do you need a portable toilet rental, local dumpster rental, or regular track collection service? We have the garbage service you need to keep your home, neighborhood, or business clean. Give us a call today to get started!
featured news
Contact Us
email: info@abestrash.com
phone: 402-468-5434
fax:(402) 571-7215
8123 Christensen Ln Omaha, NE 68122