The Importance of Reliable Trash Service in Omaha
Waste management is important for your community to be healthy and sanitary.  Many diseases can be prevented through the proper disposal of trash. Reliable waste management also helps to preserve the environment. Without a reliable trash service, pollution and ecological problems can begin plaguing your neighborhood. Trash that is not disposed of properly can end up in landfills or in our oceans. This can lead to serious health problems for both humans and animals.
A reliable recycling service also helps to reduce the amount of trash that ends up in landfills while working to preserve natural resources. Not only is Abe's Trash committed to making sure your waste is disposed of safely, but we also provide recycling services that help minimize any environmental impact.
By providing reliable garbage service, trash removal, junk pickup, and yard waste removal (such as leaves and grass), you can keep your neighborhood clean and safe for everyone.
Removal of debris and junk also makes your Nebraska neighborhood more appealing, increasing property values and improving your quality of life.
Abe's Trash Service makes waste management so much easier for everyone. We're proud to provide a wide range of trash services that benefit everyone.
 Types of Waste Management Services We Provide
There are various waste management services that may be required in both residential and commercial settings. Typically, trash service refers to the regular collection of garbage and other waste material from a home or business. In some cases, garbage service may also refer to the disposal of waste material at a landfill or other facility.
Some businesses may also require special waste management services, such as those that deal with hazardous materials. These types of services are typically provided by specialized companies that are trained in handling these materials safely.
Overall, waste management services are important for keeping both homes and businesses clean and safe. By using these services, it is possible to reduce the amount of waste that is produced and ensure that it is properly disposed of.
Here are just some of the trash pickup solutions Abe's Trash Service offers:
Looking for a reliable, convenient trash service in Omaha? Abe's Trash Service offers curbside trash removal using 95 gallon carts. In addition to trash removal services, we also offer our residential clients recycling and bulk item removal. Simply schedule your services and place your cart out curbside!
For more than 60 years, Abe's Trash Service has provided reliable and affordable trash removal and dumpster rental services to Omaha businesses, both large and small. In addition to routine commercial trash removal, we provide rear and front loading dumpster rentals, junk removal, and recycling services.
Planning for a renovation or construction project? Abe's Trash Service provides roll-off dumpster rental services fpr commercial and construction projects. Our dumpsters come in 4 sizes ranging from 12 to 40 yards. Our roll-off dumpster rentals operate on timely delivery and pickup, and our team works hard to ensure careful placement of each dumpster.
At Abe's Trash Service, we're committed to making it easier to reduce your impact on the environment. We offer single-stream commercial and residential curbside recycling all over the Omaha area. Spend less time sorting materials, save gas driving to the nearest recycling facility, and divert excess waste from landfills with us!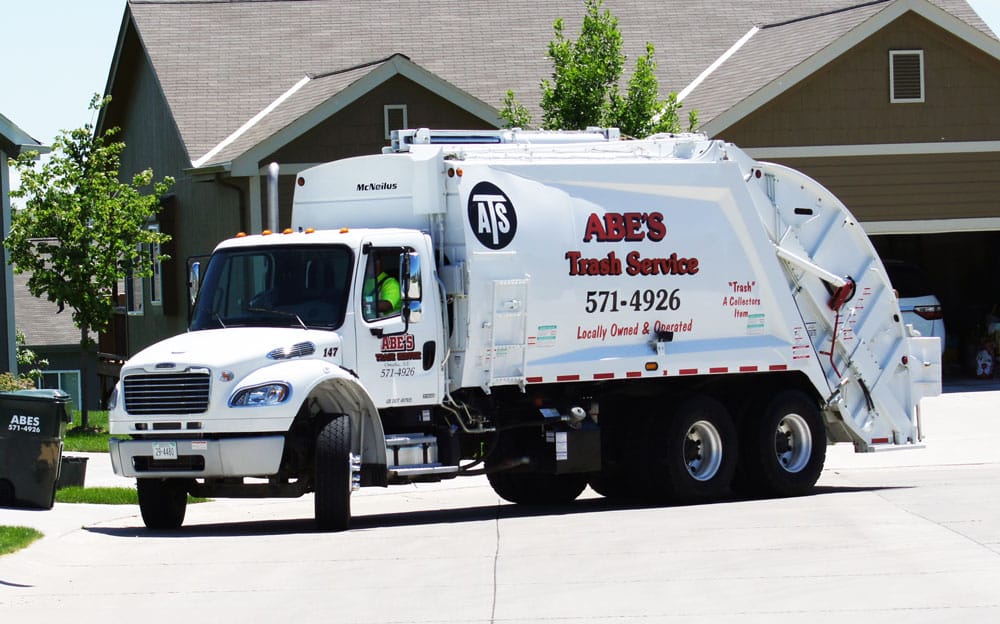 About Abe's Trash Service
Abe's Trash Service is locally owned and operated. Abe's started as a one-man one truck company 60 years ago and has been serving the Omaha community with residential and commercial junk removal, trash pickup, and recycling services. Whether you're a homeowner, business owner, or construction or demolition site manager, our goal is to provide quality, dependable service for all of our customers.
Set Up Reliable Trash and Recycling Pickup
Abe's Trash Service is ready to get you set up with whatever garbage and recycling collection services you need.  We offer the services you need to keep your home, neighborhood, or business clean. Give us a call today to get started!
featured news
Contact Us
email: info@abestrash.com
phone: 402-468-5434
fax:(402) 571-7215
8123 Christensen Ln Omaha, NE 68122